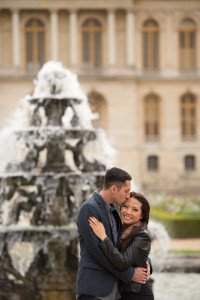 I had the pleasure of  capturing Sean's surprise proposal to his girlfriend and now fiancé Candy at the Chateau of Versailles! After his proposal my husband Chef Kent prepared them a 5 course gourmet meal. Sean was kind enough to review us on Yelp, and here is what he had to say…
"Lindsey and Justin = Epic team. They're both really down to earth and really fun to chat with. The 5 course dinner that Justin prepared was ON POINT. The pictures that Lindsey took of me and my fiancé were ON POINT.
I did a surprise proposal at the Palace of Versailles and ooohhhh it was awesome. My fiancé had no idea Lindsey was following us. Lindsey captured the most beautiful moments. We had a good long photo session at Versailles. Afterwards we met up again for some drinks then went to their apartment for dinner. Everything was so perfect there. They have a really cute little Yorkie named Oliver which my fiancé was in love with. We all had dinner together then went to the Eiffel tower for another photo session. I would recommend their services to anyone that goes to Paris. Its not like you'll always be going back to Paris so you would want the ABSOLUTE BEST to photograph it and have a awesome gourmet dinner."-Sean
Thank you Sean & Candy!
SaveSave