[column col="1/3″]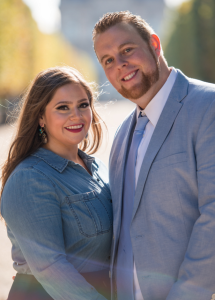 [/column]
It was fantastic to see Christina and Matt again for their anniversary trip to Paris. We had such a great time with their first session, so they were pros for their session this year! We had fun capturing some holiday photos as well as some glamorous and more relaxed shots in their 3 hour session. Read on to hear about their Photo Session. Cheers, Lindsey.
"We were lucky enough to find Pictours Paris on TripAdvisor two years ago when we had our first trip to Paris. We had our first photo session with Lindsey then, and that was the same trip we fell in love with Paris. We adored Paris so much that we knew we'd be back, and we couldn't possibly come back to Paris without having another amazing photo session with Lindsey. Her pictures have become a tradition for us. We can't possibly go to Paris without seeing her. She is so talented, and her pictures are beautiful and fun. They are constant reminders of the wonderful memories we had in our favorite city of light. They are the most perfect souvenir, and we treasure them as the best thing we can bring back from Paris.
We've had such a great time on our sessions to Paris that when my parents stopped in Paris on their way to Italy we introduced them to Lindsey and treated them to a session of their own. They are very shy people who have never had professional photos taken of just the two of them. Even when they were married 48 years ago, there wasn't a photographer present. I can't tell you how amazing she was with them. She put them at ease immediately and had them relaxed and having fun in no time. The moments she was able to capture of them laughing and having a great time are absolutely invaluable. I cannot express enough what a phenomenal woman and photographer Lindsey is. Both the pictures of my husband and I and the photos of my parents are cherished gifts that will last a lifetime. Lindsey is not only our go-to photographer in Paris, but has also become a good friend. Thank you so much, Lindsey! We can't wait to see you again!" – Christina & Matt
Learn more about photo sessions with Pictours Paris.
SaveSave