[column col="1/3″]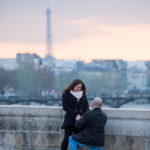 [/column]
Jeff had his perfect Paris Surprise Proposal in mind when he contact us, and it was a true pleasure working with him to flesh out his plan and make his big moment as special as possible! Read on to hear more about their story. Cheers, Lindsey.
"Once I committed to take my (now) fiancee Kelly to Paris and try to pull of a surprise proposal, I realized I was in way over my head. Above and beyond the actual proposal itself – where, when and how – my thoughts turned to how would I capture this life changing moment for us? If you're like me, I was looking for a way to capture this moment so we could enjoy it for a lifetime. Well a few Google search clicks later, my life changed for the better; I found Pictours Paris! I cannot begin to tell you how fortunate and grateful I am to have found Lindsey, Chef Justin and the Pictours Paris staff. I was totally overwhelmed by their extraordinary level of customer service and truly caring attitude they bring to the table. They specialize in capturing life altering memories and do so in an extremely passionate, respectful and professional manner.
I had in mind the location for the proposal, one of the love lock bridges in Paris. Lindsey jumped right in and worked with me from Day 1. She listened to my suggestions, concerns and offered her own as well. She assessed my needs and made more suggestions. All of this communication was via email of course, until I arrived in Paris and we were able to talk and text. All told, I believe Lindsey and I traded dozens of emails planning this very important day for me and she was prompt and responsive throughout!
Cut to the big day. We arrived in Paris on a Tuesday and the proposal was planned later in the week on a Thursday evening. Unfortunately, rain, rain and more rain was in the forecast all week including the big day. So Lindsey and Chef Justin did their best meteorologist impression and suggested delaying the proposal by one day. Viola! Wouldn't you know, on the evening of the following day the sky parted, cloud cover dissipated and a magnificent sunset Surprise Proposal was in process! Probably due to the anxiety of planning a vacation to Paris itself – let alone the proposal arrangements – one of the most enjoyable aspects of working with Lindsey and Chef Justin was being able to "just let go" and have them take over. Once we had a game plan in place, it was so awesome to just finally relax, let Lindsey do her thing for the photo shoot, and simply enjoy Chef Justin's romantic and delicious Gourmet Picnic offerings!
Since this is a testimony of our experience with Pictours, allow me share with you biggest and most unexpected bonus we received. In an email I sent to Lindsey after the big day: "…I'm glad I waited a bit and didn't submit this review straight away to your website immediately after the big day or upon receiving our photos. Why? The reason is because we couldn't have imagined how unbelievably FUN AND ENJOYABLE it has been to share our photos and stories with friends and family. This was a HUGE BONUS we did not see coming. Frankly, one of the coolest things I've noticed is how many of our friends and family are just floored in amazement over the quality/resolution of your shots and how well you were able to capture the memory of our happiest and most important day together. The typical reaction I've noticed is that the shots you took without us posing seems to really make eyes light up. Additionally, sharing our moment with a few pictures with others seems to create a stronger bond of sorts and they walk away feeling closer to Kelly and I, which is nice. Of course the proposal shots were the headliner, since we will never be able to recreate that magical moment ever again, but you also caught tender moments of us walking to the surprise picnic as well." I can't recommend Pictours Paris and Picnics Paris enough. Words cannot adequately express how positive the experience was with Lindsey and Chef Justin.
Fellas, I'm speaking directly to you now. You're going big here, right? Over the moon big: Paris..Wow..Proposal..Wow..Trip of a life time! You're going to the expense of taking your gal to Paris to ask for her hand in marriage. It's a huge day! DO NOT MISS YOUR OPPORTUNITY TO LET LINDSEY AND CHEF JUSTIN MAKE YOUR LIFE EASIER! You want Guy points? If you think you're scoring points by going to Paris to propose, you have no idea how many points you'll score by using Pictours! And the real reason to use Pictours? Because she deserves it.
Thank you again Lindsey, Chef Justin and the Pictours Paris crew. You guys absolutely hit it out of the park and because of your efforts we will never forget our special day in Paris for the rest of our lives." –  Kelly & Jeff
Learn more about Surprise Proposals.
SaveSave