[column col="1/3″]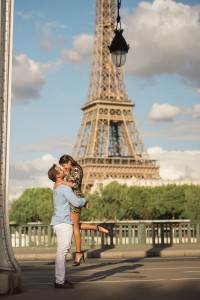 [/column]
"Anand and I were on vacation in Paris. It was my first time in Paris. Anand made sure I didn't see the Eiffel Tower until the day he had planned to propose. On the day of, Anand booked a cruise on the Seine, but he had also already planned his Surprise Proposal with Lindsey of Pictours Paris.  As we arrived at the Pont Bir Hakeim Bridge where you can see the cruise boats below, I stopped to take in the breathtaking view of the Eiffel Tower. I was just blown away at the sight of the Eiffel Tower from the bridge. It was a quiet, private, yet beautiful location.
It was a total surprise and so romantic on so many levels.After Anand proposed, I remember a voice in the distance saying "Hiii" and of course I was shocked to see Lindsey. In my mind the proposal was somewhat of a blur because I overcome with emotions but Lindsey captured it all perfectly! I told her on the day that I had never taken professional photos before but I was really happy it was her. She is quite warm and friendly and gave great directions for photos.
It must not have been easy for Anand to choose a photographer online but Lindsey and the Pictours Paris Team really helped Anand through the whole process and was quick to respond to any questions. Not to mention her website is well laid out and the photos are extraordinary!I am forever grateful to Lindsey and Pictours Paris for capturing our special moment in time." -Preya & Anand
Learn more about Surprise Proposals.
SaveSave