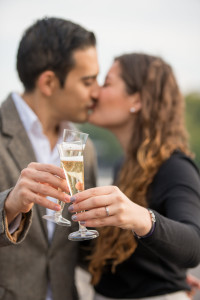 "The minute I knew my girlfriend and I were going to Paris I knew it was the perfect place for the proposal. I wanted to capture the moment to have a memory of the special occasion and found Pictours Paris on the web. After browsing the site, I was really impressed with Lindsey's portfolio though my expectations as a digital artist where really high. I contacted Lindsey and she answered all of my questions right away, so I just decided to go for the Surprise Proposal Photo Session.
The morning we arrived to the place we had arranged, Lindsey was already waiting for us, blending in the crowd as a tourist so my girlfriend didn't notice her at all. As soon as we arrived, she started capturing every single moment right away. Cristina wasn't expecting the proposal at all, so she was completely shocked by what was going on. The best part is that all of her reactions were being secretly captured on camera!
After Cris said "yes" and we had a moment for ourselves, I waved at Lindsey and she approached us and was really warm and welcoming. She congratulated us and made sure Cris was feeling OK before taking some more pictures. The whole photo shoot went great, we even popped a bottle of champagne and got some really nice pictures out of it.
I was really impressed with the whole Pictours Paris service. Lindsey was quick to answer all of my questions before I even booked the shoot. She blended really well as a tourist when we arrived to the place for the proposal and started capturing every single moment right away.
A couple of days later, the pictures arrived in high quality to my email. The result surpassed our expectations and our friends and family loved them. We can't wait to print them out and hang them in our new home once we get married.
Pictours Paris delivered the perfect experience for a Surprise Proposal in Paris!" – Cristina & Rodrigo
SaveSave