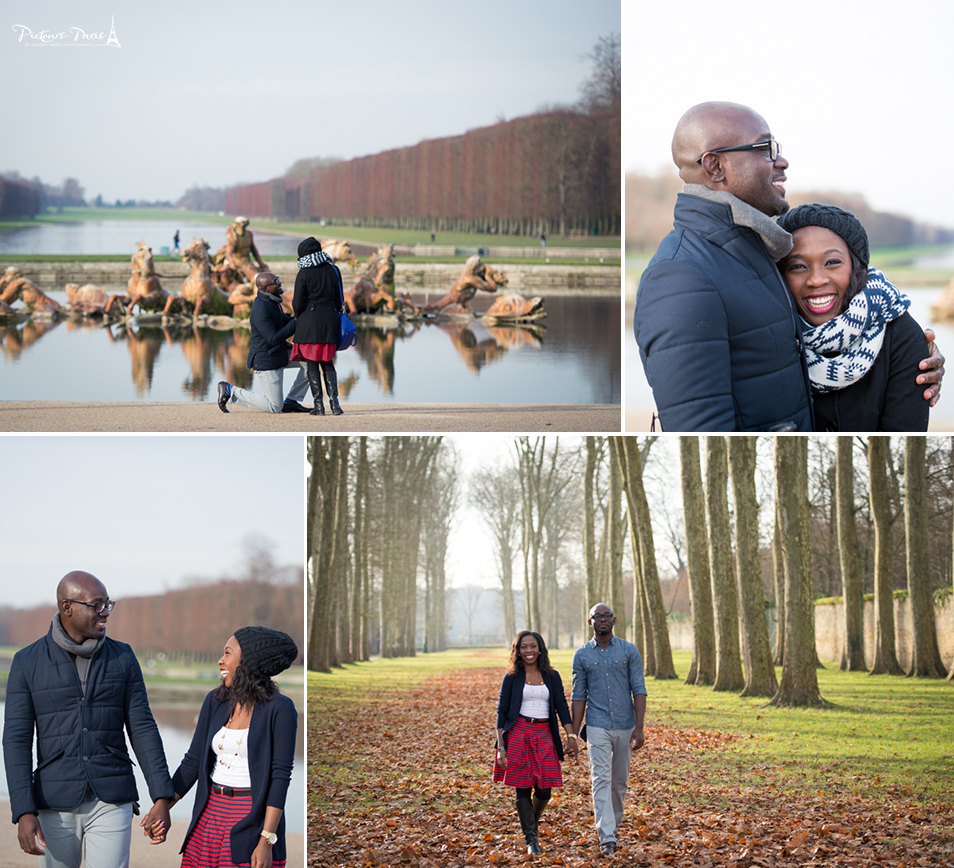 I absolutely LOVE capturing surprise proposals for couples in Paris! In 2013, I'll have captured 43 surprise proposals; and all of them around Paris, except for a special Versailles proposal I had this week! Gbola contacted me about how he'd be bringing his girlfriend, Tosin, of nine years to Paris for the first time this December, and he wanted to make the trip even more unforgettable with a surprise proposal! He asked me if the Chateau de Versailles was and option, and I said why not?! Sounded fun to me!
So, Gbola and I decided to meet at the main entrance gates at 10am, and our plan was for me to discreetly follow them in and out to the gardens. I had Anna, my stagiere (intern) for the week, with me so that we could "play tourists" and take photos, etc. as we followed behind them. At 10am sharp, we see Gbola and Tosin heading towards us. The plan starts out flawless: We follow them into the main courtyard, and Tosin seems unassuming of our presence. There are then two paths you can take once you enter the Chateau courtyard: Through to the Grand Apartments, or out to the Grand Gardens.
Mistakenly, Gbola missed the entrance to the gardens, and went into the Chateau instead. Anna and I followed behind, and I hoped to catch his attention and motion for him to exit and go to the gardens. But he didn't see me, so we ended up following them all the way through the Palace and got to see the Grand Apartments where former royalty lived, the gorgeous "Hall of Mirrors," and all! It wasn't part of the plan, but hey, it was fun for Anna and I to get some sightseeing in as well! And luckily enough, Tosin never noticed we were there. After we toured through the Palace, Gbola and Tosin finally make their way out to the gardens. Show time! We slowly followed the couple at a slow pace, until Gbola reached the Bassin d'Apollon (a beautiful fountain near the Grand Canal de Versailles), and he got down on one knee. She was shocked, elated, and so happily surprised! It was such a special moment. After their hugs and tears of joy subsided, Anna and I approached the couple and gave them congratulatory hugs. We then walked around the gardens for a mini engagement session. All in all, it was a perfect proposal on a perfectly sunny, wintry day in Versailles!
To learn more about our surprise proposal packages, go here!
SaveSave
SaveSave