[column col="1/3″]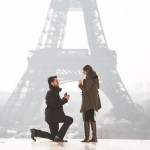 [/column]
The morning light and the gentle mist in the air created the perfect romantic atmosphere for Will's Surprise Proposal to Stephanie. Read on to hear their story. Cheers, Lindsey.
"I was in Paris on vacation with my former girlfriend and current Fiancée. We were in Paris to honor her grandmother and spread her ashes near the Eiffel Tower in accordance with her dying wish. The engagement was just timed perfectly to honor her grandma and show my love for her.
My favorite part of the Pictours Paris experience was everything! From the first contact through receiving my high quality, STUNNING photographs, the Pictours team was accommodating and professional. I love the images they took of my Surprise Proposal and their communication and care they take for your special day is unsurpassed.
Lindsey was fantastic and so sweet. Her communication through email was thorough and helpful. She was early to the shoot and captured the ask spectacularly. Afterwards she was so sweet to my fiancée and gave us a fun and natural photo shoot in the most romantic location imaginable. Lindsey is passionate about her craft and that love and passion shine through her pictures. Thank you Lindsey!" – Stephanie & Will
Learn more about surprise proposals and gourmet picnics.
SaveSave