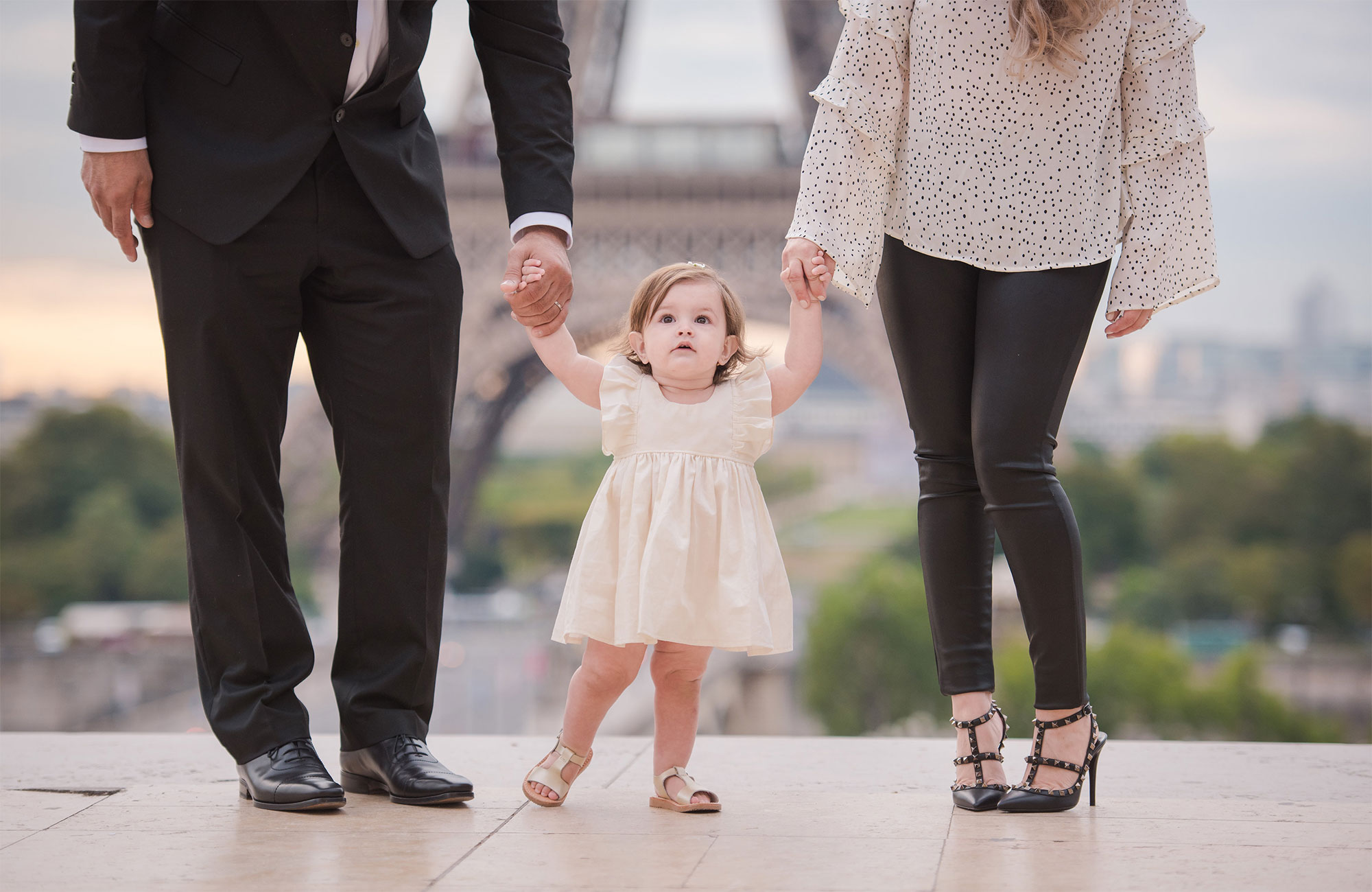 We've compiled a list of the most common questions and concerns clients have when planning for their Paris photo session! Contact us if your question isn't referred to below. Thanks and see you soon in Paris!
CANCELLATION / DEPOSIT POLICY: We ask for a deposit to secure the time and date of your session. If for some reason you have to cancel your session, we request 14 days advance notice, so that we can reschedule that time slot with another client. If cancellation occurs less than 5 days from your session, the deposit will not be refunded.

LATE POLICY: If you are late, that will take away from time we spend taking photographs. If you are more than 20 minutes late, we will need to cancel or reschedule the session. Your deposit won't be reimbursed if your tardiness causes a cancellation.

CANCELLATION/WEATHER: Pictours Paris does the best to reschedule around inclement weather. Light rain is not a problem, but heavy rain can be. We can select a different day or time of day if scheduling for both parties permits.

We will reimburse 50% of the deposit if inclement weather causes an absolute cancellation. Deposits are non-refundable during busy season (April – August), and are not reimbursed for cancellations within 48 hours in slow season, nor if you are a no-show.
Most people like to dress up a little bit for their Paris photo session. Be the very best version of yourself! For colors, bold colors work well, and black and white is also very classic French. Try to avoid busy patterns and large logos. And ladies, don't forget to bring comfortable shoes to walk in while we are between locations, especially if you plan to wear high heels for photographs. Also, consider hair and makeup styling before your session!
Paris is quite the rainy city - and it can be unpredictable! Most of the time, we have light sprinkles that won't affect our session too much. Just plan to bring a large solid color umbrella in case of rain – and embrace the sprinkles. We think Paris in the rain is quite romantic! However, if there are heavy storms, we will do our best to reschedule for later in the day, or another day.

We love mornings and evenings in Paris, but we highly suggest booking your session in the morning. Morning sessions provide soft light and less crowds. Evening light is also nice and soft, and we can plan to end near sunset or just after the Eiffel Tower lights come on, but the crowds can be heavy. We always do our best to minimize background people in your photos, but at some heavy-traffic locations, this can't be avoided.

Evening Sessions may incur an additional fee. Inquire for details.
Absolutely!! It's my job to make you shine for the camera and I do my absolute best to help you feel comfortable, natural and relaxed while we provide you with directions on posing.
Over the years we have refined our location options to focus on the major monuments, as well as Paris's beautiful gardens. We typically spend time around one major landmark per hour of photography - based on the time it takes to get from one location to another in a traffic-heavy city. More specific information is provided once you book. 

We can walk between locations (hence the tip for ladies to bring comfortable shoes to walk in between shots!). And if the locations are farther apart, we'll most likely take a taxi, so please bring some additional cash for taxi fare (15-20 euros). We may also take the metro or RER, so it's good to have these tickets on hand just in case.

The package price includes light edits to each photo. We enhance the overall look and feel of your images via post-processing software (Adobe Lightroom and/or Photoshop). We enhance colors and contrast, minimize shadows, and straighten and crop. We do not apply heavy editing such as wrinkle smoothing, blemish removal, removing people or objects from the background, making your appearance different/liquify, contouring, etc. We also do not alter clothing such as ironing wrinkles, etc. So please plan accordingly to be photo-ready. If you would like more photoshop editing, it can be offered at an additional price.
We edit and deliver all of the photos from client sessions via Pixieset (link). You will then be able to make prints, enlargements, albums, and more. You can create these on your own or through Pixieset.

We will give you a map and meeting location information before your session. Sometimes we meet in front of a cafe, other times it will be at the specific monument. Please note the meeting time and location, and plan your route via metro, bus, taxi or walking. Always allow ample time to get to the meeting location on time for your session. Metro and bus rides can take upwards of 45 minutes if you must make changes or travel from across the city. 

We often book multiple sessions a day, so if you are late, that will take away from time we spend taking photographs. If you are more than 20 minutes late, we may have to cancel or reschedule and please note that we will leave after 25 minutes. Your deposit will not be reimbursed if your tardiness causes a cancellation. Thank you for your understanding. Let's all be on time and have a ton of fun!
Yes!! We work with several talented hair and makeup artists that we love to recommend. Find their information below.
Here are a few of our favorite places and resources for where to stay, what to do and what to eat in Paris.

Where to Stay: 

Personally, we love feeling like a local with apartment rentals!
• Paris Perfect Apartment Rentals
• Perfectly Paris Apartment Rentals
• Habitat Parisien Apartment Rentals

Culinary Delights DELIGHTS:
• Restaurant Zia, owned by my husband and I!
• Picnics To-Go by Zia Paris. Best enjoyed on the Champs de Mars at the foot of the Eiffel Tower
• Paris By Mouth – fabulous restaurant resource
• Lefooding - great app to search for Paris restaurants near you
SIghtseeing
• FAT TIRE TOURS

"SKIP THE LINE" and "EASY PASS" TOURS: We're proud to be an exclusive re-seller of Easy Pass Tours in Paris (and London)! Tours in Paris include:
• Eiffel Tower Skip the Line tours
• Day and Night Bike Tours (Paris and Versailles)
• Segway Tours in Paris
• Skip the Line tickets –  Orsay Museum, Louvre Museum and Versailles

CONTACT US for more information on availability and prices

SHOPPING
• Le Bon Marche
• Galeries Lafayette